Can my kids share a Rally account?
Sibs accounts are free! On the bottom navigation bar tap Family > Add more members
Up to 5 family members can share Rally. Only parents can manage the family members.
Please don't share accounts - here's why. The trouble with sharing an account is that reading stats get jumbled. One of the great things about Rally is that it tracks individual student stats (minutes read, words read, words/minute read, accuracy, streaks, Lexile, time of day, etc.) every time they read. Tracking enables you and your student to see their progress. That's really motivating for kids! If students share an account, the stats blend and aren't very helpful. Within Rally, you can sign up for more than one child account, which helps keep individual data organized and each child motivated by their own progress.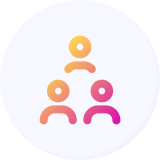 ---
---